RC CHAIN(Bag)
YKK proudly presents our new Racquet Coil "RC" zipper.
Especially designed for luggage where resistance to abrasion is a must, the zipper was precision engineered to
meet the toughest performance requirements.
Available Sizes

Unique Shape Protects Thread:
The new RC zipper features a unique oval shape that ensures durability.
And, YKK takes the advanced design to the next level by strategically placing the sewing thread (which attaches zipper to tape)
in an indentation on the oval thus protecting it from exposure and from being easily torn(Patent Pending).
ZF Slider

The ZF Slider's pulltab can be easily inserted.

The Rotary Slider's pulltab rotates 360 degrees.

DFNT3 Slider is a closed crown slider without a pulltab.

DFL Slider

DFW Slider

DLL Slider
High Durability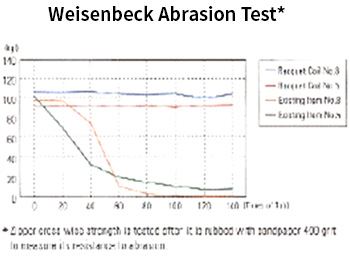 Using the Weisenbeck Abrasion Test*, YKK examined zipper chains' durability by rubbing sandpaper against the chain to measure resistance to abrasion.
On conventional chain, after 60 rubs the holding thread was badly damaged.
In contrast, the RC chain withstood up to 100 rubs or more.