STANDARD TYPE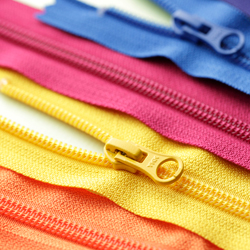 A coil zipper is made of spiral plastic elements, such as polyester or nylon.
This is the most popular zipper among the three types of zippers.
This versatile zipper can be used in anything from apparel garments to luggage or sporting goods to automobiles.
Expand your possibilities with our coil zipper.
Available Chart
테이블 설명
Classification
Close
Open
Two-way
Size/Chain Type
2CF
OK
-
-
3CF
OK
OK
OK
45CF
OK
OK
-
5CNF
OK
OK
OK
8CF
OK
OK
OK
10CF
OK
OK
OK
Tape Variation
다양한 디자인으로 변경된 Metal Zipper를 활용할 수 있습니다.
Clear Item Code :

Clear coil zippers offer a cool impression and lightweight sensation.
There are two types of tape available.
One is made of nylon making the zipper totally clear and the other is made of standard polyester. Nylon tape is softer than polyester.
(5CNL with standard P16N tape, 5CNL with NM2(nylon clear tape)
Printed custom design is now available on clear tape.

Size Chart

테이블 설명
Classification
Close
Open
Two-way
Size/Chain Type
3CL
OK
-
-
5CNL
OK
OK
-

Chain type

Clear tape

PRIFA® Clear tape

Stitch color

Yellow MC-YEL1

Pink MC-PIK1

Pink MC-PIK2

Red MC-RED1

Orange MC-ORE1

Green MC-GRN1

Elastic Item Code :

This stretch tape zipper is ideal for workout and fitted apparel.
The stretchable tape allows for comfort while wearing and remains durable.
There are 2 types of tape: vertical stretch (ELT/ELV) tape and horizontal stretch (ELW) tape.

Size Chart

테이블 설명
Classification
Close
Open
Two-way
Size/Chain Type
3CF
OK
-
-
45CF
OK
-
-
5CN
OK
OK
OK
5RC
-
-
-
8RC
-
-
-

테이블 설명
Tape Variation
ELT
ELV
ELW
Size/Chain Type
3CF
-
OK
-
45CF
-
-
OK
5CN
OK
OK
OK
5RC
-
OK
OK
8RC
-
OK
OK

Flex knit Item Code :

TAPE CODE : BPR2

Since the tape is soft and stretchable, it can easily be sewn in a curved application.
It will not ruin features of the fabric, since the tape is thin and soft.
It can also avoid puckering, also it can align the teeth.

Size Chart

테이블 설명
Classification
Close
Open
Two-way
Size/Chain Type
3CF
OK
-
-
45CF
OK
OK
-

Size

3CF BPR2

45CF BPR2

Create-a-shape Item Code :

TAPE CODE : PSK

Transform your garment into a customized shape with this zipper! Once customized, you can keep the shape you created.
<NOTE> Please ask the customer to bend both ends of the zipper inside so that the wire will not touch the wearer's skin.
*Please inform qty beforehand because we do not keep tape stock.

Size Chart

테이블 설명
Classification
Close
Open
Two-way
Size/Chain Type
5CN
OK
-
-

Variation Images

Black

Red

Grey

Turquoise Blue

Yellow

Cream

Navy

Purple

DarkGrey

Brown

White

Orange

Green

Pink

DarkBrown

MORE

Designed woven Item Code :

We have designed woven tape zippers such as "herringbone" and "melange".
Unique design can be created by using 2 different color threads.
Depending on the color choice, this tape can look both classic and also fancy.

Herringbone tape is available with metal, coil and VISLON® zippers.
Melange tape is available with metal and VISLON® zippers.

Denim-look designed tape is available with coil zippers.

Size Chart

Herringbone tape
Herringbone tape
Close
Open
Two-way
Size/Chain Type
5RG
OK
OK
OK
5CN
OK
OK
OK
3VS
OK
OK
-
5VS
OK
OK
OK
8VS
OK
OK
-

Melange tape
Melange tape
Close
Open
Two-way
Size/Chain Type
5RG
OK
OK
OK
3CF
OK
-
-
5CN
OK
OK
OK
5VS
OK
OK
OK

Metallic yarn tape
Metallic yarn tape
Close
Open
Two-way
Size/Chain Type
3YG
OK
OK
-
5RG
OK
OK
OK

Metallic yarn tape
Denim-look designed tape
Close
Open
Two-way
Size/Chain Type
5CN
OK
OK
-

Tape Variation

Herringbone tape

Detail of tape

Melange tape

Detail of tape

Metallic yarn tape

Detail of tape

Denim-look designed tape

Detail of tape

Striped / Checkered Item Code :

Other than choosing from YKK design, You can make your original striped or checkered pattern.
With the striped tape zipper, the wider tape is also available.
Please contact a YKK representative for details if you have any questions or concerns on this topic.

Size Chart

Vertical striped tape
Vertical striped tape
Close
Open
Two-way
Size/Chain Type
3CF
OK
-
-
5CN
OK
OK
OK
3YG
OK
OK
-
5RG
OK
OK
OK
3VS
OK
OK
-
5VS
OK
OK
OK

Horizontal striped tape
Horizontal striped tape
Close
Open
Two-way
Size/Chain Type
5CN
OK
OK
OK
5VS
OK
OK
OK

Checkered tape
Checkered tape
Close
Open
Two-way
Size/Chain Type
5VS
OK
OK
OK

Vertical striped tape

One line stripe (DS)

Two lines stripe (DW)

Bold line stripe (DB)

Dot lines stripe (RN)

Multi colors and lines stripe (TY)

Horizontal striped tape

Horizontal border pattern(DH)

Checkered tape

Checkered

Cation poly blended Item Code :

TAPE CODE: CDM**(Marble),CDH**(Herringbone )

Brand-new tape from YKK, woven by polyester and cation dyeable yarn to make the tape two colors.
There are two woven patterns: one is dappled pattern that looks like chambray, and the other is herringbone pattern.

5CN available element: clear only.
※Reverse use is technically available, but white color sewing thread runs through the center of the zipper.
If the customer accept that appearance, it's OK to use in reverse. Basically not recommended.

Size Chart

테이블 설명
Classification
Close
Open
Two-way
Size/Chain Type
3Y
OK
-
-
5CN
OK
OK
-

Color variation

Pink 515

Orange 523

Smoky Blue 555

Cyan 549

Yellow Green 536

Green 540

Mustard 106

Gray 578

Purple 863

MORE

Herringbone design color variation

Pink 515

Orange 523

Smoky Blue 555

Cyan 549

Yellow Green 536

Green 540

Mustard 106

Gray 578

Purple 863

MORE

Light Weight Item Code :

TAPE CODE : P12L

The coil chain is 20% lighter, VISLON® chain is 15% lighter than STD,
Tape is used thiner yarn and it makes soft-touch. Recommended for thin, lightweight garments.

Size Chart

테이블 설명
Classification
Close
Open
Two-way
Size/Chain Type
3CF
OK
OK
-
3VS
OK
OK
-
5VS
OK
OK
OK

Variation Images

Coil

VISLON®

Neon color Item Code :

With one of the latest trend, neon color tape zipper, you can make your garment eye-catching.
Neon color tape zipper is available in all types of zipper, and with matching neon color sliders too!
You can mix and match to make a style of your own.

Size Chart

테이블 설명
Classification
Close
Open
Two-way
Size/Chain Type
3MF
OK
OK
OK
5MF
OK
OK
OK
3CF
OK
OK
OK
5CN
OK
OK
OK
3VS
OK
OK
OK
5VS
OK
OK
OK

Variation Images

Metal zipper

Coil zipper

VISLON® zipper

Anti-static Item Code :

TAPE CODE : P14S

We used static guard yarn for this zipper (silver line is the static guard yarn)
This special treated zipper will reduce static.
Recommended for use on sports apparel, clean-room wear, uniforms, and nursing clothes.

Size Chart

테이블 설명
Classification
Close
Open
Two-way
Size/Chain Type
45CF
OK
OK
-