GLOW IN THE DARK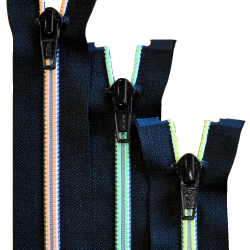 The sewing thread Glows-in-the-dark.
There are 6 color variation as same as VISLON type zipper.
Recommend for running wear garment for night use.
Thread color variation (Top: Nomal / Bottom: Glowing)
Available Chart
테이블 설명
Classification
Close
Open
Two-way
Size/Chain Type
5CN
OK
OK
OK
Care Information / Remarks
Brightness and terms of the luminosity is different by thread color, also may vary depending on environment of the zipper to be used.
After exposed under D65 1,000lx for 30min, to be able to luminous 5-8 hours in the dark for natural color, and less them 2 hours for orange color.

Luminosity abates after a few hours.