VISLON® Slim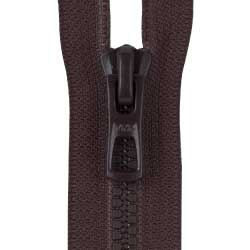 Thinnest, lightest and the most flexible VISLON type zipper in YKK!!
5VH chain thickness is 25% thinner and chain weight is 23% lighter compared to 5VS.
Because of the slim elements, chain is very flexible and recommended for packable garments.
Available Chart
테이블 설명
Classification
Close
Open
Two-way
chain
Size/Chain Type
3VH
OK
-
-
-
5VH
OK
OK
OK
-
Care Information / Remarks
Zipper strength is lower than 5VS.
Do not use this product for luggage/bags and shoes.
Do not use this product on heavy garments.
This may result in loss of zipper strength, and in some circumstances cause breakage.
Ensure product is completely closed when placing into a washing or drying mashine. A partially closed zipper may become entangled with other items; resulting in damage to element, slider or other components.