VISLON® FLAT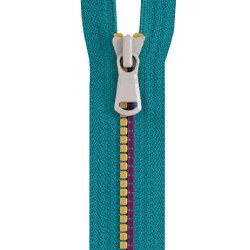 The special shape of the "VISLON" elements will add fashion and style to your garments.
Combine different element and tape colors, to emphasize the design components.
Hi brightness metallic color is now available in "VISLON" flat.

Increased fashionability due to different shape.
This flat "VISLON" teeth is totally new to the zipper market.
Color Variation (Colored Metallic type)
Color variation (Mirror like finish type)
Available Chart
테이블 설명
title
Close
Open
Two-way
Size/Chain Type
3VZ
OK
OK
-
5VZ
OK
OK
OK
8VZ
OK
OK
-
Care Information / Remarks
Reverse use is not available.

[Strength]
Strength is slightly lower than standard item.
This product is not recommended when individual teeth attachment strength is required such as luggage and boots.
Please contact a YKK representative for details if you have any questions or concerns on this topic.