LUMIFINE®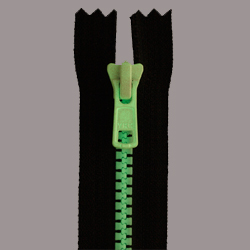 LUMIFINE® glow-in-the dark zipper is now available in six neon color combinations!
It can be used both as a safety feature at night, as well as a fashion accessory for clothing during the daylight.
Element color (top: glowing / bottom: normal)
Available Chart
테이블 설명
Classification
Close
Open
Two-way
Size/Chain Type
3VSK
OK
OK
OK
5VSK
OK
OK
OK
Care Information / Remarks
Luminosity weakens after a few hours.
Brightness and luminosity may vary depending on the size and environment where this zipper is used.
Teeth will not occur blackness or discoloration even under the sun.

Other colors than WHITE are only available for 5VSK.