AQUAGUARD®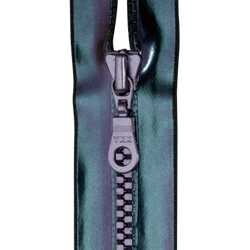 The new water repellent zipper keeps you dry and in style.
YKK now have "VISLON" type zipper for "AquaGuard" series.

There are 3 types of film variation; clear film(shiny/matte) with variety of color variation, and matte colored film which has more luxury look.
Operation is very smooth, and you do not have to worry elements to come-off.
Elements' shape is different from standard "VISLON", and it is totally new zipper with water-repellent feature.
Combination pattern image
Available Chart
테이블 설명
Classification
Close
Open
Two-way
Size/Chain Type
3VT8
OK
OK
-
3VT9
OK
OK
-
3VT10
OK
OK
-
5VT8
OK
OK
OK
5VT9
OK
OK
OK
5VT10
OK
OK
OK
8VT8
OK
OK
OK
8VT9
OK
OK
OK
8VT10
OK
OK
OK
Care Information / Remarks
This zipper is water repellent, not waterproof/watertight.

Dry>
Petroleum based dry cleaning solvent is recommended. Chlorine based solvents often cause difficulty in operating the zipper, color runs, or cloudy film.
Repetitive dry cleaning may result in deterioration of the zipper's water repellency.

Washing>
Zipper must be completely closed when washing in order to avoid damage to the film. Tumble Dry, Normal, Low Heat, because oot may cause the deterioration of the zipper's water repellency.

Iron>
Do not iron the zipper. High temperature may melt the film and the element and/or cause color migration to the garment fabric. If, however, the zipper is heated, please do not move the slider until the zipper has been cooled down. Slider movement may tear the heated film.