YZiP®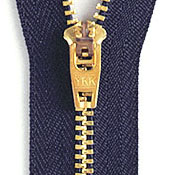 We have several finish variations with slider and element finishes that can be matched. YZiP® can not only be used for jeans, but also for denim jackets.

Available Chart
테이블 설명
Classification
Close
Open
Two-way
Size/Chain Type
3YG
OK
OK
OK
4YG
OK
OK
-
5YG
OK
OK
-
Care Information / Remarks
As well as polyester tape, polyester mixed weaving cotton tape is also available.
YZiP® is recommended for jeans. However, YKK does not guarantee the zipper quality after any process (stone/sand wash etc).
Colors may fade with repeated laundering.
Color bleeding might occur in the washing process when processed by the customer.
Washing test by customer is recommended before bulk order.