EXCELLA®Flat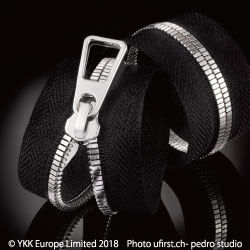 By devising a way to smoothen element engagement despite smaller inter-element gaps, we perfected a luxury zipper with a sense of flatness and seamlessness. This revolutionary design establishes the zipper as a luxurious embellishment, rather than just a fastening device. New technology is used to achieve high-quality operability to match the external beauty. The complex shape is created using new die-cutting and attachment methods.

Excella®Flat has received 3 honored design awards, iF Design Award 2016 "Winner", Red Dot Design Award 2015 "Winner"and 2017 German Design Award "Winner".
Available Chart
테이블 설명
Classification
Close
Open
Two-way
chain
Size/Chain Type
5SGZ
OK
-
-
-
Care Information / Remarks
DF35* & DA18* dedicated slider only.
The corner usage is not recommended because of the 5SGZ element shape. When 5SGZ chain is folded strongly, the elements would be slipped. Even though the fastening system can still work, people may see the gap between the elements.