METALLION®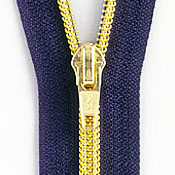 element; shiny type and matte type.
The shiny type will be an attention grabber on your garment. By plating the coil element, this product creates the look of shiny metallic on a lightweight coil zipper. The matte type can add a vintage look to your garment.

Gunmetal color had added with METALLION® shiny type.
Element color(shiny type)
Element color (matte type)
Available Chart
테이블 설명
Shiny Type
Close
Open
Two-way
Size/Chain Type
3CM
OK
OK
-
5CNM
OK
OK
OK
5CNM Reverse
OK
OK
OK
테이블 설명
Matte Type
Close
Open
Two-way
Size/Chain Type
3CMV
OK
OK
-
5CNV
OK
OK
OK
Care Information / Remarks
[Ironing]
Please do not iron on the element part. Metallic effect will be damaged.
Sales Tool