CONCEAL®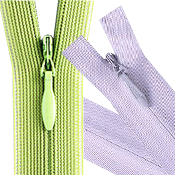 CONCEAL® is an invisible zipper where you can not see the element. It does not disturb the garments design so it is best suited for dresses and skirts.

Also, the CONCEAL® open-end zipper can also hide the open parts so it is recommended for the jacket where the open-parts need to be hidden.

Available Chart
테이블 설명
Classification(front)
Close
Open
Two-way
Size/Chain Type
2CH
OK
-
-
3CH
OK
OK
-
5CH
OK
OK
-
Care Information / Remarks
[When sewing]
· Use of Sewing Machine Guide from YKK is recommended.
· Operating force of the zipper will increase when the stitching is close to the elements.
Be informed that breakage or puncture could take place when sewing on cloth whose thickness varies dynamically such as the overlapped cloth at the edge.
· When sewing on cloth with rough fiber structure or cloth composed of long-coated yarns such as Mohair fiber, please avoid getting the cloth tangled into the machine by giving slightly long intervals between stitches or by other possible methods.
· Open parts for 3 CH OR are movable for easier sewing process.

[When Washing]
· When exposing the zippers to washing or related processing, close each zipper in order to lessen the pressure or damage that can result in performance deficiency.

[When Ironing]
· When ironing the zippers or the cloth to which they belong, please do so with the zippers closed under less than 130°C.
· Pressing with a damp cloth is also recommended.